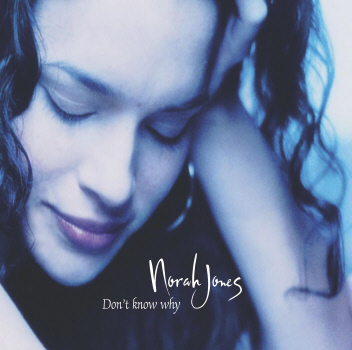 Artist: Norah Jones
Song: "Don't Know Why"
Album:
Come Away With Me
Year: 2002
CLICK HERE TO LISTEN
(will open in new tab)
Though it is a rather popular mindset to believe that jazz music has no place within the world of popular music in the current era, when one looks into the past twenty years of music, there is no question that in both direct and more subtle ways, jazz is still alive and well. Whether it is being worked into hip-hop in a number of different ways, having progressions re-worked into rock songs, or being as "standard" as ever, jazz music remains a powerful force in the current music scene. This was especially apparent in the almost sudden rise of one of the most talented vocalists of the past few decades, as there are few voices that can measure up to the beauty and presence of Norah Jones. Taking the world by storm with her 2002 debut,
Come Away With Me,
the album is filled with some of the most alluring and blissful musical works in recent memory, and few records have crossed over into as many different musical worlds as this record. Managing to appeal to nearly every musical audience,
Come Away With Me
represented the true power of music, as one simply cannot get past the fact that even if one is not particularly inclined to such songs, every track is carried out with exceptional talent and precision in every area. Yielding a number of successful singles and "new" standards of jazz music, there may be no more definitive a recording in the still-young career of Norah Jones than her magnificent 2002 single, "Don't Know Why."
The musical arrangement found on "Don't Know Why" remains both beautiful and refreshing, as it was released in an era where in a majority of cases, music had become overly artificial and uninspiring. Yet even aside from the exceptional talents of the musicians here, it is the mood that they create which makes "Don't Know Why" so captivating. The song is as warm and inviting as one can find anywhere, and it is the soft, subtle sway that they create that enables the track to draw the listener in deeper with every note. There is also a unique musical fusion at play throughout the track, as while the "standard" jazz elements are clearly in place, there is a modern twist on them that gives the song an almost "pop-country" feel. This combination is in many ways the key to why "Don't Know Why" commands such a wide appeal, and much of this begins with the bass from Lee Alexander. The tone and mood he deploys via his acoustic bass is second to none, and the way that this works with the soft, brushed drumming of Dan Rieser is absolute musical perfection. These two set a phenomenal mood into place, and the piano of Norah Jones becomes the ideal finishing touch, as she almost dances across their rhythm, managing to keep things low-key, and yet exciting in a completely unique manner. The fragile way that the trio approach the song, especially during Jones' solo, shows their knowledge and understanding of multiple genres of music, and there are few songs that are as truly perfect as one can experience on "Don't Know Why."
However, there is a forth instrument at play throughout the entire song, and that is the absolutely unparalleled voice of Norah Jones. While she is nothing short of fantastic on piano, it is her smooth, somewhat sultry voice that is without question her finest asset. Bringing an expression within her singing that is miles beyond that of any of her peers, Jones quickly captures the entire emotion of the song, pulling the listener in further with her delicate, yet powerful performance. It is this balance between tone and talent which endeared Jones to so many different styles of music fan, as she represents the true power of the human voice in every sense of the word. There is a slightly rough edge running underneath her vocals, and this becomes a fantastic addition, as the raw, unguarded nature of the singing of Norah Jones is what catapulted her to such heights. Yet it is also the way that the lyrics which she sings so perfectly match her personality that pushed "Don't Know Why" to its now-iconic status. Poetic at every turn, and filled with some of the most vivid and beautiful imagery, it is the words that serve as the ideal finishing touch to the song, completely the mesmerizing and encompassing nature of the track. Playing as a song of hope, tragedy, and love simultaneously, Jones pushes each word to its expressive limit, and there is no question that this is her finest studio moment to date.
While most are unaware, "Don't Know Why" was actually written, recorded, and released by Jesse Harris a few years prior to the Norah Jones version, but there is no question that it is the latter of the two which manage to capture the very essence of the song. In fact, "Don't Know Why" holds a very unique place in music history, as it managed to win a trio of Grammy's, including both "Record Of The Year" and "Song Of The Year." The track became the defining moment of her entire
Come Away With Me
album, and this works perfectly, as the rest of the record is filled with similarly blissful recordings. In the few years that have passed since its release, "Don't Know Why" has been covered a handful of times, as there are now versions in existence from Smokey Robinson and Pat Metheny among a number of other recordings. The fact that such jazz luminaries have taken their turn on the song is a testament to both the track itself, as well as Jones' brilliant performance, and there is no question that she is one of the few artists who fits as perfectly into the world of jazz as the does to that of pop music. Few songs in history have a sonic construction that sounds as outright "familiar" as that found on "Don't Know Why," and yet the fact that it is a completely original orchestration is a testament to the exceptional talents of everyone involved in the writing and recording of the track. Whether it is the mesmerizing musical arrangement or the blissful vocal performance, there are few songs in history that are a truly perfect as what can be heard on Norah Jones' unforgettable 2002 single, "Don't Know Why."